Chances are, if you're in the homebuilding industry, the concept of self-guided tours has crossed your desk at some point in the last year. It might've gone by different names — unattended access, or maybe on-demand tours, but they all represent the ability to provide your shoppers a way to schedule a tour online and then visit a community and tour their home of choice without having to interact with a salesperson first. It's home touring on their command and on their time, and the data shows that it is an incredibly successful supplement to help builders bring more qualified, motivated home buyers to the table.

Toward the end of 2020, we held a webinar with our partners at BDX to answer all the questions we were receiving about how self-guided tours work. We wanted to provide access to the recording of this Q&A session for those who are just learning about UTour for the first time. If you've got 30 minutes, we couldn't recommend it enough. Read on below to get a full picture of all the answers you'll receive while watching the webinar.
Why Self-Guided Home Tours?
First and foremost, self-guided home tours have provided a safe way to tour new homes amid the need for social distancing due to the COVID-19 pandemic. Going deeper, however, there are a multitude of reasons why self-guided home tours have staying power such as staffing issues, close-out communities and more. Watch the webinar to learn all the ways that self-guided tours can serve you as an incredibly powerful lead generation tool and provide a solution for changing consumer behavior.
How Does It Work?
At its core, our self-guided tour platform combines proprietary hardware, a public-facing scheduling website and a content management system. Each piece has been developed with homebuilders in mind to create a seamless experience for our builders and their home shoppers alike. Check out the webinar to learn how these elements work together to provide a superior home shopping experience.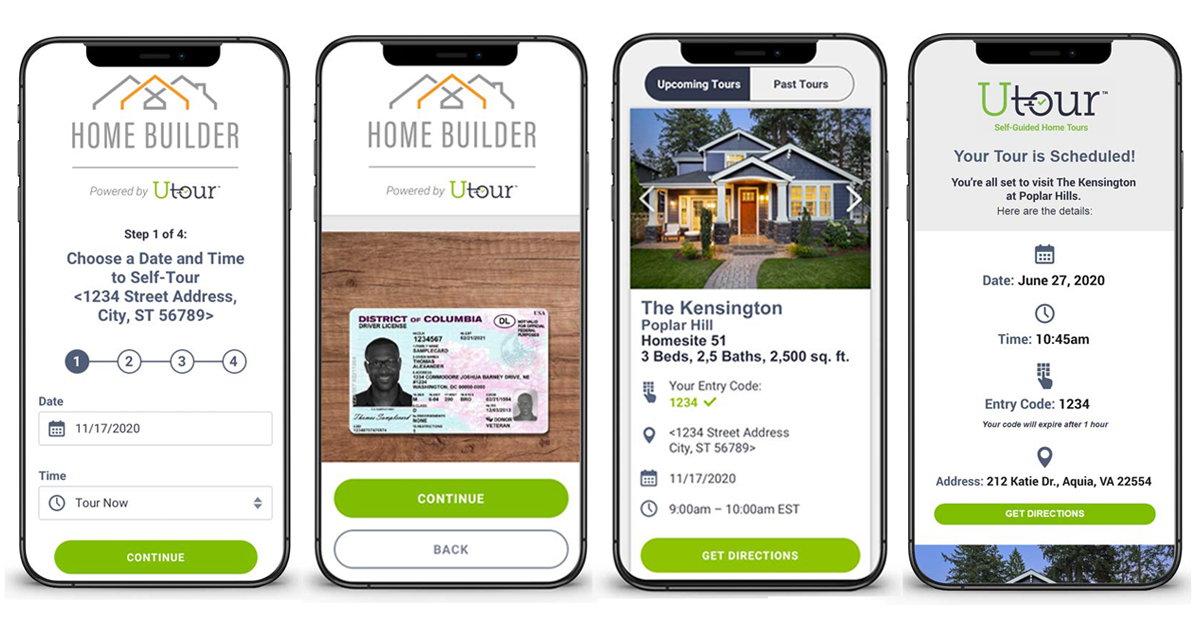 What About Security?
UTour is proud to be the only self-guided tour solution offering integrated security with our partners at Alarm.com. During the webinar we outline how UTour customers can integrate enhanced security capabilities at each of their model and inventory homes for self-guided tours.
How Do I Get The Visitor And Tour Data?
With UTour, reports on visitor and tour data are always at your fingertips via the UTour Client Portal. In the webinar, you'll learn how you can harness this data for the benefit of your business.
Does This Work with My CRM?
We offer integrations with many of the leading CRM platforms that allow all of your UTour data to be fed automatically to your CRM. Check out the webinar to see which CRM's we currently support and learn about future CRM integrations coming soon.
What Are The Results?
Since launching in February 2020, UTour has logged over 38,000 self tours, over 21,000 leads and over 19,000 visitors for our clients across North America. In the webinar, you'll learn more about the key results from all self-guided tours to date, including the most popular touring times and more.
Who Is Using UTour?
One of the most common questions we receive is who is using UTour? In the past year, we've grown tremendously with adoption from builders both large and small. In the webinar, we discuss the success homebuilders of all sizes have had using the UTour platform.
What Is The Cost?
What's the bottom line, you ask? We offer a straightforward, tiered pricing model where you won't need to worry about hidden fees or add-ons. Watch the webinar to get details on our Access Only and Access + Voice tiers, as well as one-time hardware costs.

Self-guided home tours might be new to the marketplace, but consumer demand has made it clear that they are here to stay. We hope you've been inspired to check out our 30-minute webinar recording to get answers to all your UTour questions. But don't hesitate to get in touch with us today if you want to connect individually or schedule a demo.